Jatropha Dehulling Machine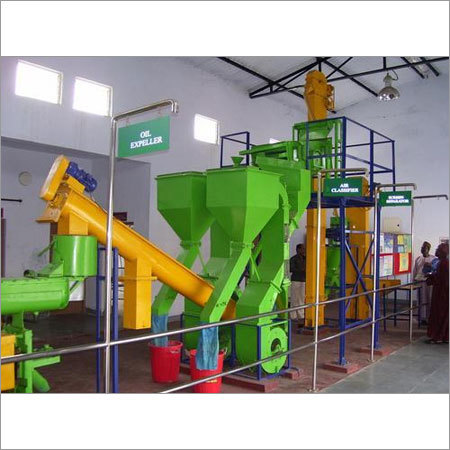 Jatropha Dehulling Machine
Price And Quantity
Product Specifications
1-1.5 T/hr

1000-5000 Kilograms (kg)
Product Description
JATROPHA SEEDS DEHULLING SYSTEM FOR BIO DIESEL PRODUCTION
FUNCTION
Jatropha seeds contains about 35 to 40 % max. hulls/shell. The hulls doesn't contain oil and rather obstructs the oil extraction / expression from the kernel inside. The function of the machine is to dehull the Jatropha seeds and separation of Meat and Hulls. This will help in efficient expelling of Oil from the Sunflower seeds and also increase the capacity of processing unit.
PROCESS / MACHINE OPERATION
Goldin Impact Hullers provide efficient, through hulling of seeds for further separation of Hulls and Meats.


Simple accurate control features place the operator in total control of the hulling operation assuring you of consistent, predictable result for your processing
Impact Hullers consists of a feed hopper, dehulling assembly, drive mechanism and supporting fram. The whole Jatropha seeds are fed to the hopper of dehuller through a feed elevator. The feed regulation mechanism convey the seeds to the dehulling assembly of the machine. The basic principle of this dehuller is the use of centrifugal force for seed dehulling.

The dehuller consists of a fast rotating impeller inside a fixed housing. The seeds moves outwards with very high velocity and get impacted on stationary surface of housing.


Due to impact at a certain angle, the hull gets open and as the seeds slides along stationary surface, due to shear force hulls get peeled.


From the bottom of the dehuller the mixture of undehulled seeds, kernels, hulls and broken were obtained. It will go for separation of hulls kernels
The III deck type Fines Grader having 3 decks. It removes Unhulled seeds on 1st Deck out let, the mixture of Big Kernels + Hulls discharge on 2nd deck out let, the mixture of Broken kernels + Small Hulls discharge on 3rd out let and fines discharge through bottom out let of 3rd deck.


Unhulled seeds are reefed to Impact Hullers through suitable conveying system.

The mixture of Hulls & Kernels obtained from each deck out put of Fines grader fed into 3 Nos. Air Classifier
First Air Classifier: Separate Mixture of Big Kernels + Unhulled seeds + Big hulls from 1st Deck outlet (Unhulled + Hulls) Second Air Classifier: For Separation of Mixture of Small + Small Kernels + Broken Kernels & hulls comes from 2nd deck outlet (Sunflower Kernels + Hulls) Third Air Classifier: For Separation of Mixture of Broken Kernels (fines) & hulls comes from 3rd Deck outlet (Broken kernels + Hulls) Kernels are discharged from Air Classifier be fed to further process to Oil Mill / Bio Diesel and other by products obtained from Jatropha seeds
Product details
| | |
| --- | --- |
| Material | Stainless Steel |
| Voltage | 440 V |
| Weight | 5 Ton |
| Type Of Machines | Seed Grader |
| Usage/Application | Cleaning |