Screen Air Separators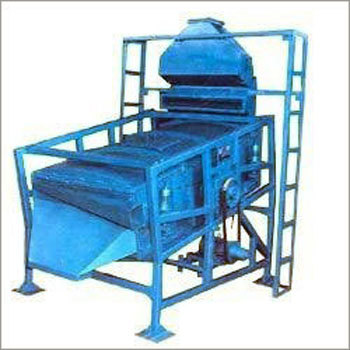 Screen Air Separators
Price And Quantity
Product Specifications
Product Description
Screen Air Separators
We feel proud to be reckoned as the quality manufacturers of Screen Air Separators. We make these Screen Air Separators at reasonable rates. Apart from quality materials, these separators are dimensionally accurate and are as per the industry's standard.

Salient Features:

The GOLDIN SCREEN-AIR-SEPARATOR is a positive eccentric, four bearing design.
High speed, vibrating screen which ensures accurate, high quality separation high capacity.
The adjustable feed hopper regulates feed as desired and uniform distribution of material across width of screen.
Variable Speed drive facilitates to adjust optimum speed for best cleaning results.
The outboard bearing isolation mount combined with advanced balancing systems make the frame vibration less, allowing the machine to be operated on any structure.
Quick access clamps permit easy access for interior cleaning and faster screen changing.
Optional stainless steel construction permits the machine to be used for food, chemical and other specialized application like de-watering.
Ball compartments incorporated into the screen support grid allow an optional ball cleaning system.
Several models are available for capacity upto 50 TPH and above on wheat basis.
The Goldin Screen Separator may be equipped with various options. The pre-scalp unit is equipped with a short screen, somewhat coarser than the "top" scalp screen in the machine. This makes for scalping of the large over-size objects before the product enters the Screen. The PRE-ASPIRATOR is used to remove hulls or dust and other light contaminants before the product enters the Screener, thus making the product more flow able at the start of the screening operation. The POST ASPIRATOR is used when the finished product is to be the "plus" of the screen. This product is then discharged through the aspirator which removes dust or other light contaminants. Four deck screen separators can be supplied for as high capacity as 100 TPH, with split-flow arrangement. Especially, we also provide Jute Remover at Feed inlet to remove Cut bag jutes before feeding the material into Pre-Aspirator.
Product details
| | |
| --- | --- |
| Capacity | 2 TPH |
| Fan Motor Power | 2 HP |
| Height | 2000 mm |
| Length | 1700 mm |
| Machine Motor Power | 2 HP |
| Width | 1000 mm |
Series

48

72

96

10

12

Model

24X48

34X48

34X72

46X72

34x96

46X96

60X96

5X10

6X10

5X12

6X12

Capacity TPH

1-2

2-3

3-4

4-5

5-6

6-8

10-12

12-15

16-20

15-18

20-24

Machine Motor
H.P.

2

2

2

3

3

5

5

7.5

7.5

7.5

7.5

Aspiration
Fan Motor H.P.

2

2

3

3

5

5

5

7.5

7.5

7.5

7.5


Overall Dimensions m.m. (appr.)


Length

1700

1700

2200

2200

3000

3000

3000

4200

4200

5000

5000

Width

1000

1300

1300

1600

1400

1700

2000

2400

2700

2400

2700

Height

2000

2000

2200

2200

2500

2500

2500

3600

3600

4000

4000

Contact Us
F-29, B.I.D.C. Industrial Estate, Gorwa, Near Amarkar Maruti Showroom, Vadodara, Gujarat, 390016, India
Phone :+918045478066